it didn't take long! i liked most of the changes introduced by the BEAKL Bi layout, except the upper row QU roll, missing the familiar home row roll of BEAKL Zi. Returning to the new keyboard analyzer that i have been playing with solved this problem with a layout producing an even better score.
break
from the past. BEAKL Wi is a deviation from a long line of BEAKL variants that have maintained an inner index finger column of punctuation keys – something favoured more for the visual symmetry than anything else (that, and it consistently scored well).

The big change is moving the W from its familiar right pinkie finger position to the extended index finger location of the opposite hand (of the aforementioned punctuation column).
punctuation
the Dot now being displaced, allows the Dot and Comma to find a somewhat more familiar location under the middle and ring fingers (albeit the opposite hand for QWERTY users), shuffling the remaining Quote and Minus symbols.
This also resulted in a minor change to the common Regex and Symbols Layer to overlay the Exclamation and Question Mark characters (displacing the Plus and At Signs)..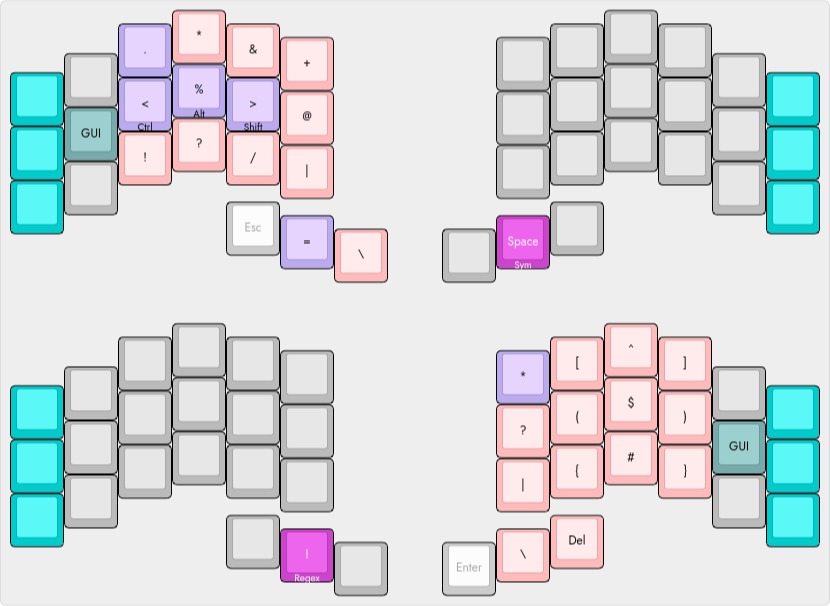 shift map
the map shifted Grave and Tilde characters are not mapped per se in layout tables but are handled by the firmware logic which traps the Dot and Comma keystrokes..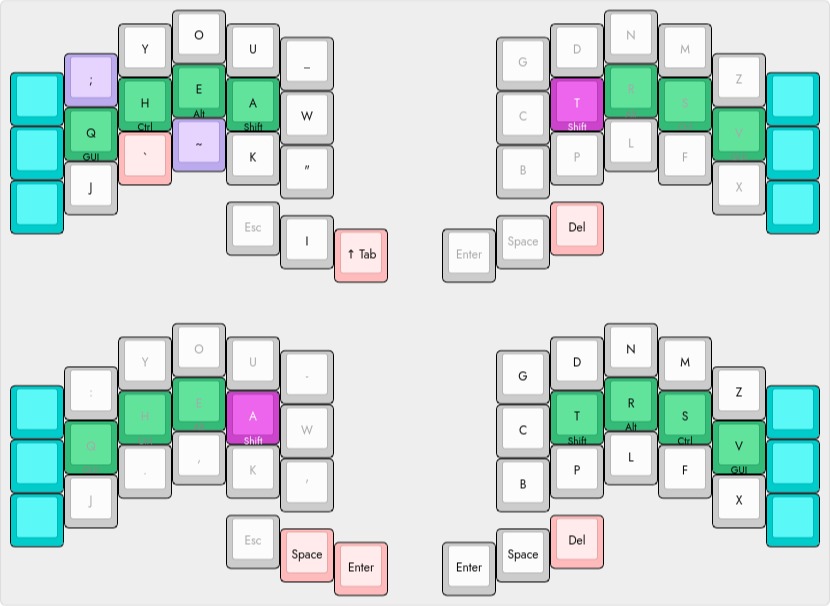 variant
the dotfiles also contain a BEAKL Vi variant whose only difference is the swapping of the B and V keys. Both layouts score almost identically, with minor differences reflected in the particular weighting and penalty scheme used. (The beauty of a configurable analyser: one's fingering mechanics, each of us inheriting differing physiology, can be reflected in an editable table).
Is this my BEAKL end game? (famous last words).. Time will tell (..ZXV seem to have found new homes and feel like they have always resided there, a good sign). It will take a tiny bit of that to lose the old punctuation finger memory. All in fun!